GWD received a letter of thanks from the shipowner of "Karsten Maersk"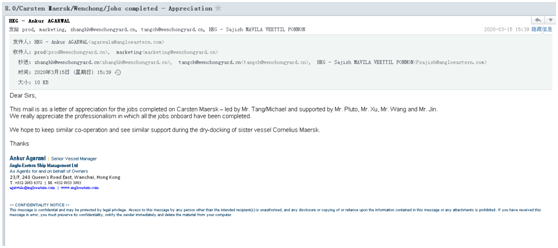 The "Karsten Maersk" is a large container ship belonging to Anglo East Ship Management Ltd., HK. It was put into GWD for repair on February 14 and delivered on schedule on March 15. During the period of recent days, GWD has received a letter of praise from the ship owner and the ship repair department for their dedication and support in the ship repair department.
The main works of "Karsten Maersk" include: overhaul of 6 cylinders of electromechanical main engine, disassembly and inspection of more than 20 heaters, overhaul of catering cranes in living quarters; repair of 25 hatch covers, ballast tanks and a batch of spare parts of side tanks; dock repair and installation of 3 new units for measuring and pushing, painting straight and flat bottom, 20000 cubic meters full stripping, etc. The ship is over 20 years old, and the whole ship is old before entering GWD, which brings many difficulties to the repair process. The project team and all engineering departments have done a good job in construction planning, focusing on safety and quality management. They have overcome the problems of berthing and delayed arrival of ship supplied spare parts, and ensured that the ship has passed the ABS certification of classification society and delivered on schedule.
Anglo Eastern Ship Management Ltd., HK is the largest ship management company in Hong Kong, which manages more than 800 ships. Among them, the container ship group is a new customer that GWD has focused on recently. The successful completion of the repair project of the "Kasten Maersk" has laid a good foundation for further cooperation between the two sides. The shipowners also expressed their expectation for further cooperation with GWD.